The Clarington Project
The Clarington Project
A project of Community Living Oshawa/Clarington
The Clarington Project, in Bowmanville, provides opportunities for individuals with developmental disabilities to participate within the community.  The Project aims to provide modern and innovative programs which are based on individual's preferences, interests and goals.
The Clarington project was first started in 1997 by families and Community Living Oshawa/Clarington, as a response to a lack of services available to adults with developmental disabilities in the Clarington area. Today the project continues to be successful by utilizing the interests, skills and dedication of families, volunteers, and students.
The Clarington Project focuses on achieving personal outcomes for individuals and ensures that their days are filled with meaningful activities. The project provides a positive and supportive atmosphere which encourages individuality and developing strong community connections while fostering learning and purpose.
Activities can include:
•Recreational and leisure opportunities (Accessible Zumba, swimming and bowling)
•Volunteer experiences
•Educational seminars and interactive presentations on a variety of topics (nutrition, fire safety, abuse awareness and prevention, life skills, friendship and boundaries.
•Learning opportunities in literacy, cooking and crafts
•Community involvement (outings to library, movies, local events and festivals and much more)
To volunteer at the Clarington Project, please complete the Application Form found by visiting the 'Get Involved' menu and selecting 'Volunteer'.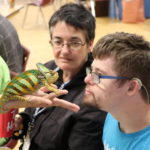 Press the speaker to hear the text.