Current Opportunities
CLOC is accepting applications for:
Youth Canada Summer Job Positions
Please read the following HRDC eligibility criteria carefully before you apply.
Applicants must be:
(a) between 15 and 30 years of age (inclusive) at the start of employment.  (CLOC requires people who will be providing direct support to be 18 years or older.)
(b) a Canadian Citizen, permanent resident, or person on whom refugee protection has been conferred under the Immigration and Refugee Protection Act*; and
(c) legally entitled to work according to the relevant provincial / territorial legislation and regulations.
*International students are not eligible. Recent immigrants are eligible if they are Canadian Citizens or permanent residents.
Click to view the posting:
Submit your cover letter & resume to:  humanresources@communitylivingoc.ca
Other positions available with Community Living Oshawa/Clarington: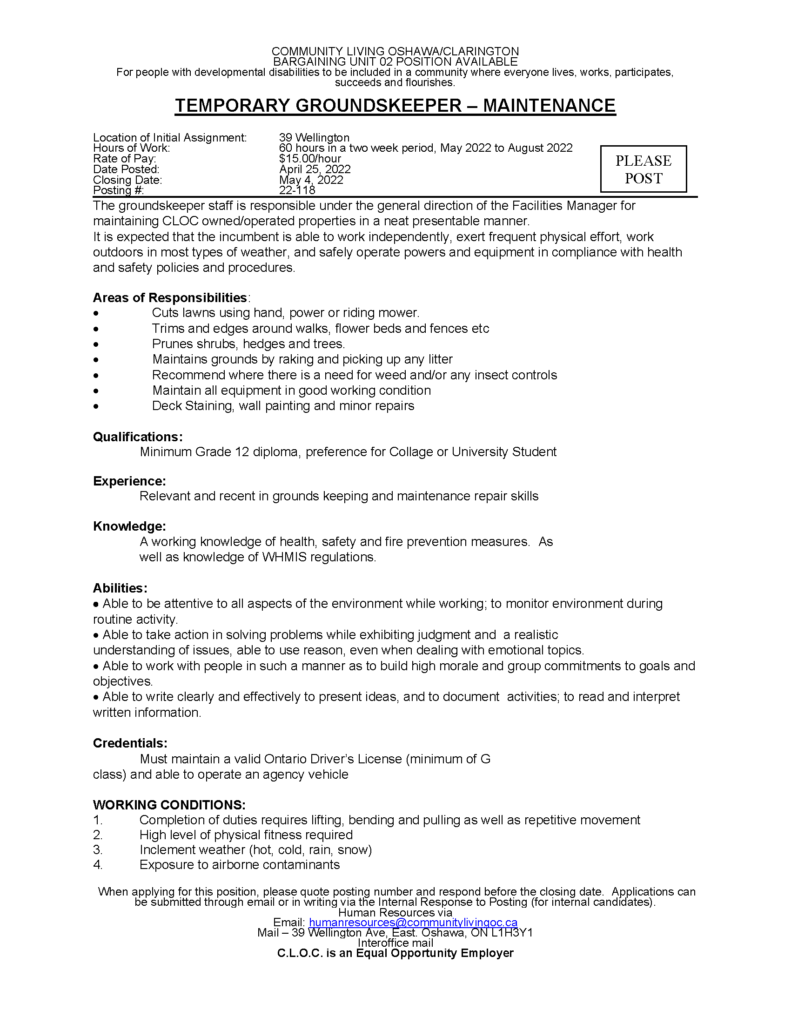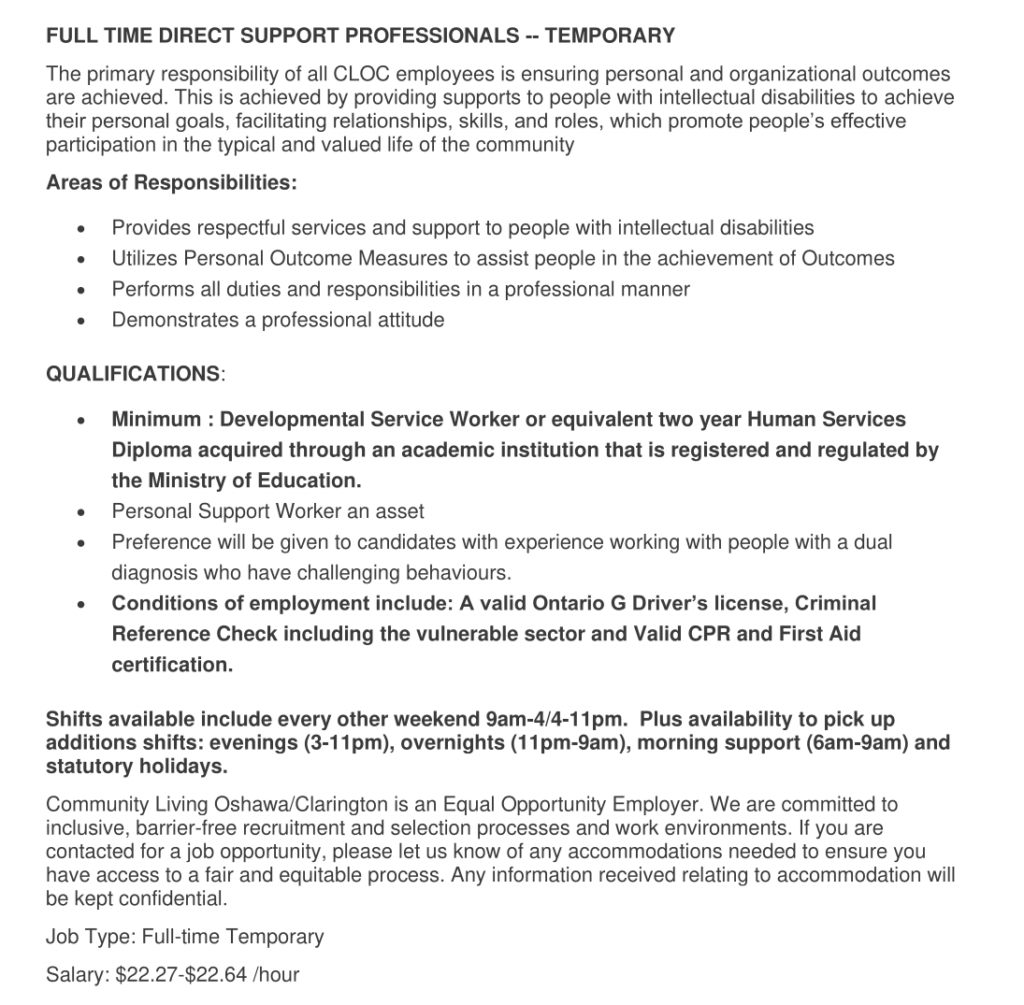 ______________________________________________________________________________________________________________________________________
PART TIME DIRECT SUPPORT PROFESSIONALS – TEMPORARY TO START, MAY LEAD TO PERMANENT AND FULL TIME
The primary responsibility of all CLOC employees is ensuring personal and organizational outcomes are achieved. This is achieved by providing supports to people with intellectual disabilities to achieve their personal goals, facilitating relationships, skills, and roles, which promote people's effective participation in the typical and valued life of the community
Areas of Responsibilities:
Provides respectful services and support to people with intellectual disabilities
Utilizes Personal Outcome Measures to assist people in the achievement of Outcomes
Performs all duties and responsibilities in a professional manner
Demonstrates a professional attitude
QUALIFICATIONS:
Preferably a Developmental Service Worker or equivalent two year Human Services Diploma acquired through an academic institution that is registered and regulated by the Ministry of Education.
Personal Support Worker
A minimum of a Secondary School Diploma is required.
Preference will be given to candidates with experience working with people with a dual diagnosis who have challenging behaviours.
*****Conditions of employment include: A valid Ontario G Driver's license, Criminal Reference Check including the vulnerable sector and Valid CPR and First Aid certification.************
Shifts available include weekends, evenings, overnights and statutory holidays.
Community Living Oshawa/Clarington is an Equal Opportunity Employer. We are committed to inclusive, barrier-free recruitment and selection processes and work environments. If you are contacted for a job opportunity, please let us know of any accommodations needed to ensure you have access to a fair and equitable process. Any information received relating to accommodation will be kept confidential.
Job Types: Part-time, Temporary
Submit your resume to:  HR@communitylivingoc.ca
Press the speaker to hear the text.