CLOC is thrilled to announce that we have been selected as the recipient of an $87,000 Ontario Trillium Foundation Capital Grant.  The application for these funds was put forth in order to complete a specific project for CLOC; to create a community access hub at 39 Wellington, where people with disabilities can participate in a variety of activities in a supported environment, and ultimately enhance community inclusion.
Evidence suggests that "when people with intellectual disability are provided social support, they feel engaged and connected and can develop a sense of social belonging, minimizing social isolation" (Nathan. J Wilson, et. al, 2016).  Gaining the skills, resources and connections needed to overcome isolation and flourish, this approach begins to address the social isolation felt by this population, maximizing the impact on this issue within Durham Region.
This funding will see the Learning Centre portion of the downstairs area at 39 Wellington transformed into a large, dividable, multi-purpose room and 3 generously-sized meeting rooms, along with the installation of new flooring, and 3 automatic door operators to create a fully accessible, community access hub for educational and social initiatives.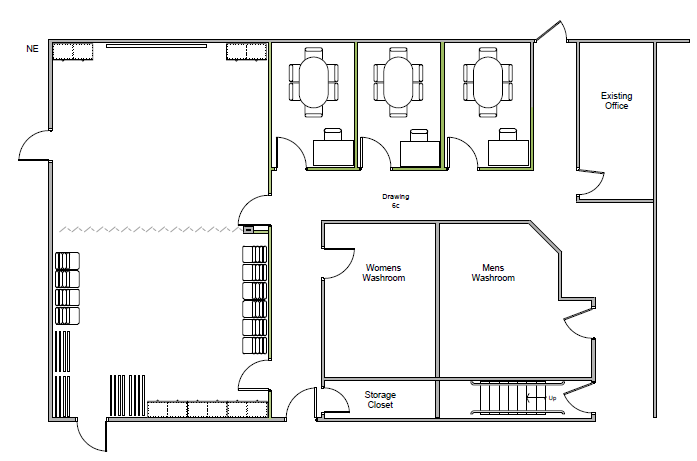 The multi-purpose room will serve as both a fully equipped training room and recreational space. There will be opportunities to participate in fitness classes, karaoke, social clubs, dances, as well as important educational and skill training sessions. The aim of these activities is to help people develop and acquire key skills and personal resources needed to get involved in their community and overcome social isolation.
The private meeting space provides an appropriate and accessible area for people to meet one-on-one with others for important planning and personal meetings. These meetings will assist them to identify and address any barriers to community involvement; and through the creation of individualized support plans will promote inclusion in their community.
The installation of new, non-slip flooring, and automatic door operators will make the area fully accessible and safe, ensuring that those people with various disabilities and mobility issues can attend.
Once renovations are complete, this space can also allow for increased engagement and allowing people from the community and other organizations to utilize the space. This will generate opportunities for partnerships, shared resources, increased social networking and community connections for the people we serve.
Rooms will be reserved through a centralized booking calendar, and can be used for activities, social time, training or meetings.  Once the process has been established, we plan to investigate the possibility of more fee for service type activities provided through CLOC supports and services, as well as renting out the spaces to external partners during the evening and on weekends.
Ultimately, the overall goal of this project is to create an appropriately equipped space to facilitate social connections, increase community ties and reduce social isolation among people with disabilities in the Durham Region.
Renovations are under way now, and 'The Hub @ 39 Wellington' will be officially opened in mid-April.