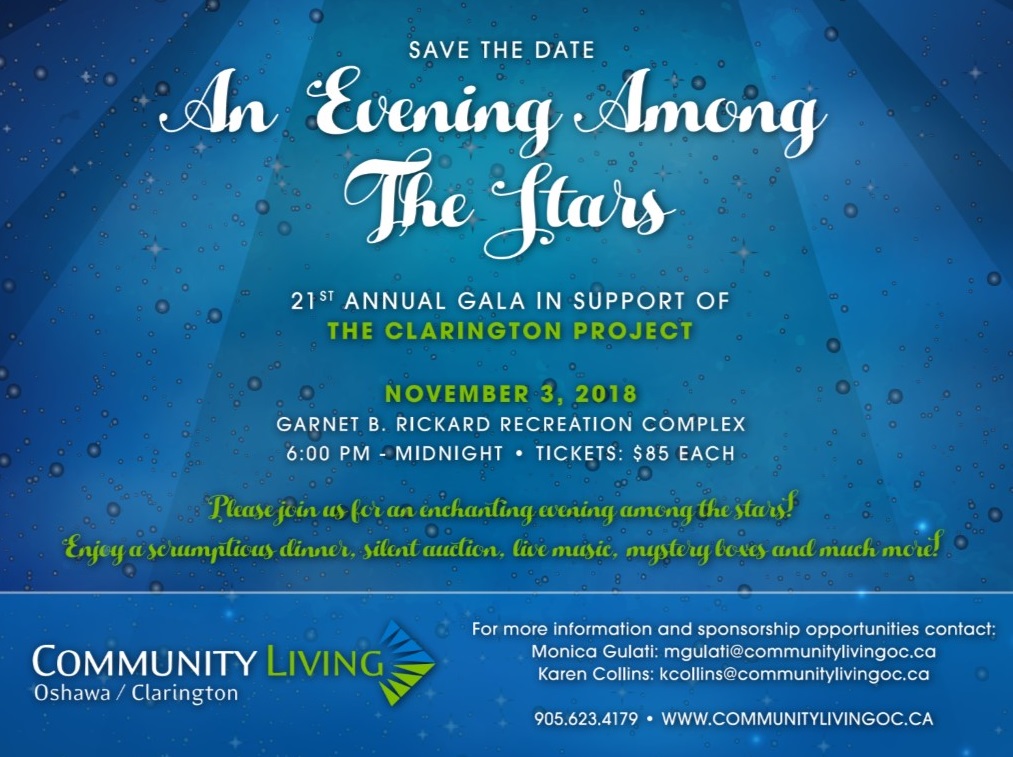 Community Living Oshawa/Clarington – The Clarington Project will be hosting it's 21st Annual Gala, An Evening Among The Stars, a celebration of community partnership and all the amazing people that make our services possible.
This enchanting evening will be held on Saturday November 3, 2018, at The Garnet B. Rickard Complex in Bowmanville. There are so many ways that you can get involved, such as donating items to our mystery boxes or silent auction, or you can purchase tickets and come to enjoy a fabulous evening among the stars.
ABOUT COMMUNITY LIVING OSHAWA/CLARINGTON – THE CLARINGTON PROJECT
The Clarington Project was founded twenty years ago by families and Community Living Oshawa/Clarington as a response to a lack of services available to adults with developmental disabilities in the Clarington area. Today, the project continues to be successful by utilizing the interests, skills and dedication of families, volunteers, and students and community partners.
Members who attend The Clarington Project actively participate in the Clarington community through a variety of activities including Muay Thai classes, swimming, yoga, bowling, volleyball, cooking classes and much more. The Project aims to provide modern and innovative activities which are based on each individual's preferences, interests and goals, and most of all to inspire all that is possible in each and every one of us.